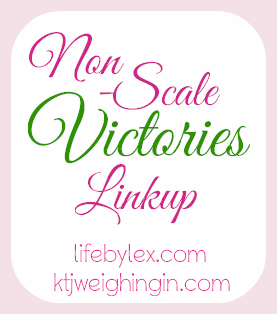 Hello ladies!!!! Ugghh is it Friday yet? LOL Im not sure about you all but this week has killed me... Moving on Im linking up with
KTJ
and
Lex
to talk about a NSV I had this week. For those of you who may not know in the weight loss world NSV is a non scale victory. Often we measure our success by that darn scale and she/he can be a rude BIAOTCH at times!!! Which is why we must celebrate the NSV.....
Sooo... anyone that knows me knows that Chillis is my spot!

I love that place and mainly for the happy hour dont judge me!!! So I have a coupon for a FREE DESSERT(because Im in the club and get emails from them) and I DID NOT use it. The whole way there I was thinking well I will just let mini me have it because its free. Who was I kidding I would have grabbed a spoon and dove right in as soon as hit the table. So it may not be much but for me not ordering the FREE dessert was a major NSV this week!!!!
I wasnt the only adult who enjoyed happy hour at the table!!! LOL
Im already prepard to do extra cardio for those drinks too!!! LOL!!!