We all have been to those showers that were not so great well in my biased humble opinion that was not my shower. You know how I love to let the pictures tell the story so I am warning you now this post is very picture heavy. Here we go...
I had my make up done by the lovely Tiffany Williams (same lady who did all my wedding makeup). She is amazing!
THE PEOPLE
If you remember my
bridal shower
you remember the turn out was less than stellar. So this time around I only wanted a small amount of close friends to help me celebrate this joyous occasion. I was pleased with EVERYTHING and EVERYONE who showed up.
My sister friends!!!
my sister and I
The lovely Cochea and I... married two weeks after me and due a couple months after me (its hard out here for a newly wed lol)
Kim and I
Atiya, myself, Keanna
my mom and I
me and my sister
Mrs. Salls, My sister, and mini me
THE FOOD!!!
So how cute are these ducks in the punch? Special thanks to Meyoshia because all I had to do was say I wanted ducks and she got them!!! (Punch= sherbet, and sprite, it was very delicious)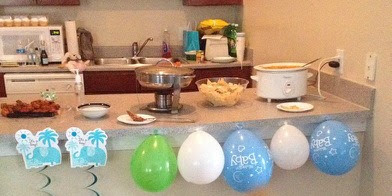 Chicken wings, rotel dip, meatballs
Deviled eggs, and pasta salad
Party Favors
THE GIFTS
We were very blessed at this shower and our friends really came through for baby Jaden. I am so thankful to each of them for everything.
I LOVE TOMMIE TIPPIE!!!!!
THE FUN
In real life I am not traditional so nothing about the shower games was. For gifts we gave out fancy looking airplane shots of vodka, gin, and champagne (I know bad blogger no pictures).
We of course played the pin game. You know don't say the word baby or I take your pin. So my husband and Cochea were running neck and neck then he slipped up while opening gifts and said "my baby will be clean" (we got a ton of baby body wash like literally over 7 bottles) so she got all the pins!!!
We played "my water broke." You freeze the babies in ice trays (babies purchased at Party City) place the frozen ice babies in a cup of water and wait to see whose baby floats first. That person then says "my water broke."... So of course at my shower we had people biting the ice to free the baby but it was super fun!!!
Who can take the shot from the bottle the fastest. This game was hilarious. We placed a shot of alcohol and juice in a bottle and had the guest compete to see who could drink it the fastest. For those who do not drink we had a non alcoholic option (pretty sure no one opted for that). We just got bottles from the dollar tree. I didn't take pictures of that either but you get it!
We played name that celebrity baby's parents. My friend Meyoshia had a printable of celebrity baby names (Blanket, Blue Ivy, etc.) and you had to guess the parents. The final game that my mini me won was measure my tummy her measuring tape fit EXACTLY!!!.... Oh and no she did not get a airplane shot the runner up did. My sister took her to the mall to pick out a gift.
Initially I had no intentions of having a shower. However my niece told me she wanted to give me one. She is only 17 and in her senior year of high school and is quite popular. There were times when I thought she was not gonna come through because again she is 17 and living her life. However she completely proved me and anyone else who said she couldn't handle it wrong. The shower was amazing. The food, decor, games, EVERYTHING was great. Thanks niecey-poo!!!